Cosmic fine tuning was one of the arguments put forward to me as evidence in favor of a god's existence, in that epic comment thread a while back. Jojo the hun wrote,
I'm very interested in the observation that the values of a number of independent physical constants have a highly unlikely combination of values which are needed in order to support matter, an ordered universe, and life as we know it, and the associated argument that the universe has been fine tuned for our benefit. To the extent that Creation is distinct from its creator I think one should expect some evidence of this type.
I don't find this argument compelling for a number of reasons. First is the problem of how we assess and understand what is likely or unlikely. Let's look at an example. If shuffle a standard deck of cards and start turning them over one at a time, I'm going to get some sequence — say, a 4 of hearts, then an 8 of spades, then a king of diamonds, and so on. The probability of the cards being randomly arranged into exactly the order that creates that entire sequence is very small: 1/52! (that's factorial), or about a 1.24 x 10-66 percent chance. In other words, if you examined 1049 (or ten trillion trillion trillion trillion) random shuffles for each grain of sand on the planet, odds are that you would get this exact sequence only once. The thing is, that's the probability of getting any of the other possible orderings of cards, too. Yet you're going to get one of them. In every case, the exact order that you get is almost unfathomably unlikely, and the odds of having gotten anything else is near 100%. Does that mean that some supernatural agent probably intervened to choose the way the cards shuffled? I don't think that's implied at all.
It's a rather humorously understated fact that there are a lot of events that have happened over the course of the universe's existence. Even if we restrict our view to the events in the history of our planet, or even in our individual lifetimes, there are a vast number of times that things could have gone one way (or one of a number of ways) but instead went another. Each specific sequence is incredibly unlikely to have happened, just like with our deck of cards. But there are an incredibly huge number of incredibly unlikely possibilities, so the odds that one of them might have happened is actually quite high. Looking back on it, it can seem like our one particular shuffle of the deck must have some magical significance. But some particular ordering was bound to happen.
Another issue that I have with these "calculations" is the totally ad hoc way in which they seem to be carried out. How exactly does one assess the odds of the strong nuclear force or the van der Waals interaction having exactly the magnitude that they do? I've read several books in which apologists state some specific number, a one followed by ever so many zeroes, as though they know, but I've never seen any kind of citation for where the actual numbers themselves came from. It's kind of like the Drake equation — the factors being chosen as necessary conditions aren't so unreasonable on face, but plugging any values into that formula just seems laughable. (I'm not saying it's impossible. Just saying I have no clue how anyone's been able to do it. If you know, please do comment!)
A third problem is what's often referred to as the "anthropic principle." From our vantage point, it's basically impossible to distinguish the necessary conditions from the unnecessary ones. The development of sapient life in bipedal primates, or even carbon-based life in general, is not clearly the only way things could have gone. Silicon-based life forms in our position might easily look at the world around them and think, "Wow, if silicon had been much less abundant and the universe had been full of carbon instead, none of this would have happened!" Our precise circumstances will seem narrowly tailored to our very specific parameters of existence, but that's hardly surprising. Any entity capable of observing its environment will necessarily be observing an environment in which that entity can exist. As I described in the previous paragraph, given that we don't actually understand the full range of physical parameters within which matter, order, and/or intelligent life might come to be, it's shaky at best to make any sweeping conclusions about what's essentially a coincidence.
Additionally, it's important to remember that humans are great agency detectors, and not without good reason. But just because something looks like design or intent doesn't mean that it actually is. We're also rather prone to imagining that everything is about us — if not ourselves as individuals, than about our family, our community, or humanity as a whole. Perhaps you are not convinced by my earlier, more mathematical arguments, and you are still amazed that we live in such an incredibly unlikely universe. Still, I would ask you: on what basis do you conclude that that unlikely universe was made for the purpose of housing us, and is therefore an indicator that there exists a god who cares for humanity? we humans might well be a side effect of a universe fine-tuned for something else entirely. (I'm very fond of Luke Muehlhauser's suggestion that the universe might have been fine-tuned for iPads.)
Then there's the issue raised by this super SMBC comic: if you find it inspiring to believe that the universe is fine-tuned for the good things (like human life, and puppies, and rainbows, and the sound of laughter), then shouldn't you be equally convinced that the universe was fine-tuned for the nasty stuff as well? All of the probability sleight-of-hand works just the same.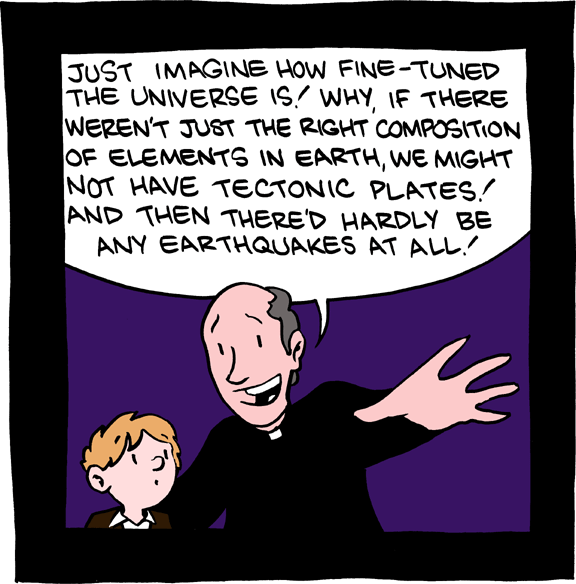 So no, I'm not convinced by appeals to fine-tuning. I think they rely on distortions of probability and statistics in order to make an arbitrary appeal to a supernatural force where none is necessary. Even setting aside all the math, fine tuning is often invoked by people who still have a long way to go before they get to any evidence for their god, who they usually claim is uniquely interested in and benevolent toward humans.